ETM Adds Unique Accelerator Space Near University of Florida in the Gainesville Innovation District
3 years ago
The Gainesville Innovation District announces the arrival of the latest business to our neighborhood. ETM, Inc. an engineering firm specializing in turnkey, planning, design and construction administration for civil infrastructure projects has created a unique accelerator space at 623 W. University Avenue that will turn this renovated historic office space into a positive force for the residents of Gainesville and the students at the University of Florida.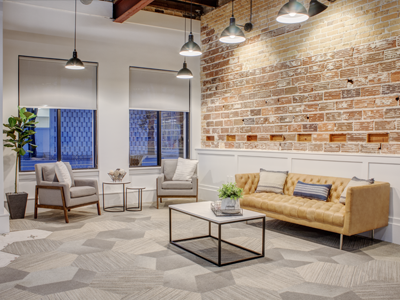 A quick peek through the windows of the reveals lovingly preserved architecture rooted in Gainesville's "Brick City": history, adorned with modern accents. Refinished wooden beams and aluminum pipes line the vaulted ceilings, while trendy light fixtures illuminate the exposed brick walls; the entryway's sleek geometric carpeting underscores the intricate hexagon tile weathered by previous tenants. This is the home of ETM, Inc., the second of three engineering firms establishing offices in the Gainesville Innovation District. Opening its doors in July of this year, the space, a harmonious mashup of classic and modern design, is the perfect fit for their Gainesville location, the ETM Accelerator, where a company with 42+ years of experience in engineering provides a strong foundation to support rising young professionals.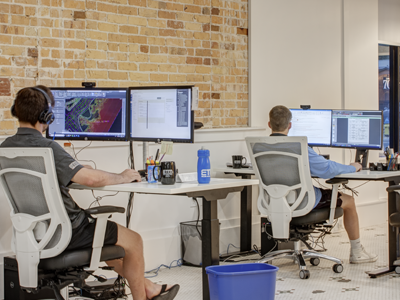 "Trimark is thrilled to help facilitate ETM's move into the Gainesville Innovation District," declared Matthew Luedecke. "As neighbors to a Top 10 university like the University of Florida, this area is perfect for forward thinking firms like ETM that want to have a presence in recruiting top talent fresh out of school for their team."
Launching in 1977 with three founders sharing space in a residential garage, ETM has grown organically from three to a team more than 200 strong across six offices throughout the state, their newest of which resides in Gainesville. Having collaborated to bring Celebration Pointe to life, ETM, which focuses on large, elaborate projects from concept to completion, fell in love with Gainesville's central location and abundant young talent emerging from the University. The location of their Innovation District hub is strategic, affording student interns a walkable commute and access to other rising companies in the area.
While the industrial gray color scheme and massive blueprint renderings command the office as a space of precision, marketing manager Rebecca Price's warm welcome and enthusiastic account of her 15 years with the organization demonstrates the high value ETM places on relationships, prioritizing faith first, family second, and the company third. "They really promote work-life balance here, and believe that the more successful we are as individuals, the more successful we can be as a company," Price explained.
This is evident in their onboarding procedures for new interns. Currently hosting both undergraduate and post-baccalaureate students in building construction, engineering, and geomatics, ETM provides each intern welcomed into the accelerator program with a seasoned mentor and extensive training in their Jacksonville headquarters to ensure their continued success once they're settled back into the Gainesville office. The local team is spearheaded by Executive Vice-President Robert Mikell, who, along with EVP Buckley Williams, oversees all of ETM's business development across central Florida; and senior engineers are readily accessible, popping in and out of the office throughout the week.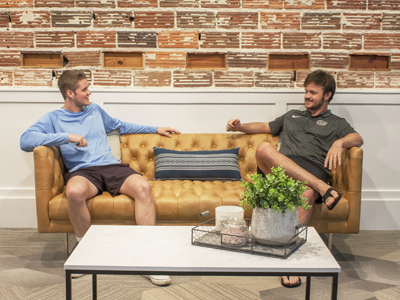 With the completion of Celebration Pointe, ETM looks forward to developing future capital projects in the area, but for now is content to focus their efforts on developing relationships with the University, the Gainesville Innovation District, and greater Gainesville. They look forward to hosting an open house in the coming months, and continue to settle into their new work space cultivating a cozy outdoor courtyard for their staff and finalizing details for signage announcing their arrival. These carefully laid plans will certainly provide the groundwork that will propel ETM Accelerator's success forward, and establish their place in the Gainesville Innovation District community.