Feeding Inspiration in the Heart of Gainesville - The 4th Avenue Food Park
3 years ago
Fueling the Gainesville Innovation District
While technology powers many of the companies in the Gainesville Innovation District, the folks running those companies are powered by slightly more conventional methods. Fortunately for those people, a special place exists in the District to ensure regulars and visitors alike have a variety of options to choose from when it comes to needing a food recharge.
Nestled between the gorgeous new commercial office buildings and generous greenspaces of the Gainesville Innovation District is the 4th Avenue Food Park, an eclectic mix of cuisines in a walkable, family-friendly space. Tim Larson, a dedicated advocate for growing independent businesses in Gainesville, is one of the masterminds behind the park. Larson is also known for his work with companies like Highpoint Lease and the runaway hit small-batch roaster Opus Coffee.
The Dream
"We started Opus Coffee in 2002, and we've been brewing in five stores since then," Larson commented. "When we bought this property, we wanted to develop what we called a 'food park,' and we knew that Opus Coffee was eventually going to be a part of it. Our idea was that so many of these buildings were being knocked down all over the city, and we wanted to preserve some of the 1950s architecture and create a piece of character in a food park where people could come, get whatever food they wanted and all sit together in the park, and it's grown from there."
"The location between UF and downtown is ideal," Larson added. "We wanted a space for kids to play and parents could have a beer, and they could both enjoy the park. There's a momentum in the District. We opened in the 800 Building on SW Second Ave, and it's going great. Definitely exceeded expectations. There's a credit union opening up next to Opus as well that will help with making the whole area walkable. It's like the whole area is brought down to a human level as opposed to having to drive somewhere in your car. It's a whole different scale."
Growing Community
While the food park has been operating for almost a year now, that didn't dull the enthusiasm for the official grand opening festivities that took place on Jan. 11. Over 2,000 people came out to enjoy the food, coffee and live music, including popular local group Bears and Lions. In that crowd was well-known food critic Ken Peng, famous for his "Ken Eats Gainesville" blog.
"The food park is just another piece of the continuing shift in attitude towards food in Gainesville. We're moving [farther] away from college fare and seeing more and more chef-driven concepts," Peng remarked. "The 4th Avenue Food Park is just one part of the equation as it's opening the door for a number of concepts being anchored by a team of very successful local entrepreneurs who are also providing guidance."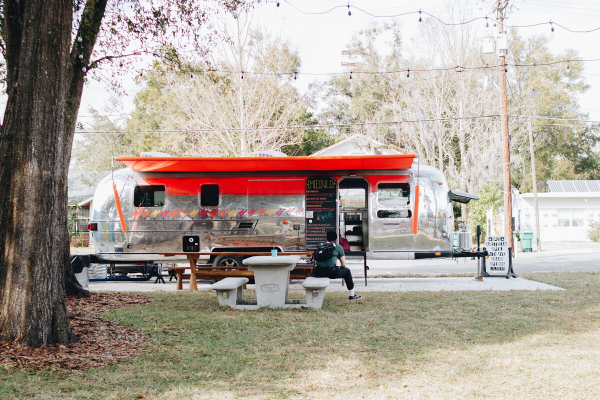 "Having the 4th Avenue Food Park in the Gainesville Innovation District is yet another win for not just the District but the Gainesville community as a whole," John Fleming declared, managing partner of Trimark Properties and leader on the Gainesville Innovation District development team. "We want this neighborhood to be a welcome destination to anyone in Gainesville that wants to tap into the energy that's happening here, and this food park concept is yet another reason to visit the District and become a part of it."
"The 4th Avenue Food Park team is another example of the positive spirit of the Gainesville entrepreneurial community," Mark Long, director of incubation services at UF, including UF Innovate | The Hub which is located in the Innovation District, added.
The Adventure Ahead
Gainesville residents may already be familiar with Fehrenbacher's Artisan Sausage and Sublime Tacos, two independent eateries located in the renovated vintage architecture Larson says pays homage to Gainesville's history. They are now accented by a shimmering, fully renovated 1976 Airstream travel trailer offering "The Adventure Series," a collection of exclusive roasts of Opus Coffee. "The Adventure Series highlights the locations where it's traveled. It's been to Canada, the Ozarks, Panama, Costa Rica, Mexico, and it was built in California," Larson added. The 4th Avenue Food Park is also expecting two new additions sometime this summer, including some more familiar Gainesville names. Humble Wood Fire will be offering bagels every morning and Satchel's will be opening its second location featuring a breakfast concept and lunch options.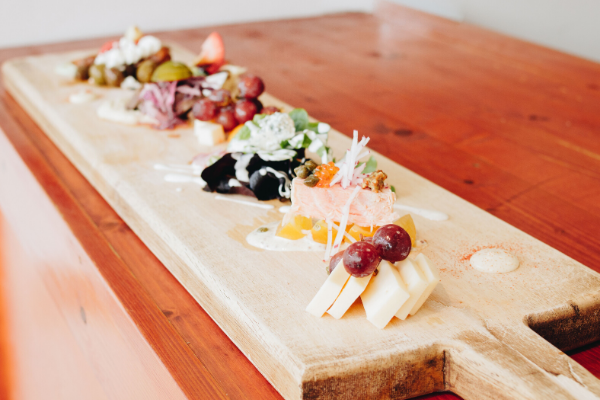 There's more than food in the 4th Avenue Food Park as well. Every Saturday beginning at 11 a.m., there's a story time for children followed by live music. Opus Coffee is open Monday through Saturday from 8 a.m. to 3 p.m.
The 4th Avenue Food Park is located at 409 SW Fourth Avenue on the eastern side of the Gainesville Innovation District.